King of Village
King of Village - Jib Event w Świeradowie-Zdroju.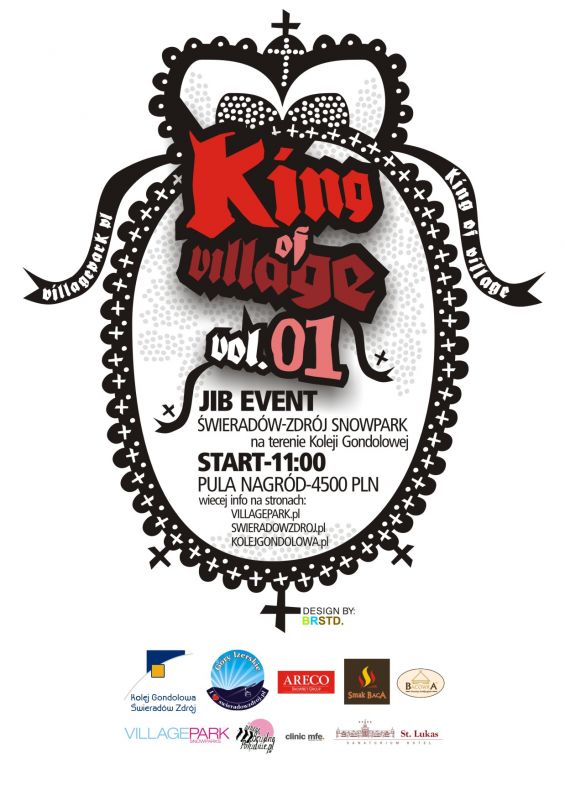 WSPÓŁORGANIZATORZY I SPONSORZY:
Urząd Miasta Świeradów Zdrój,
Sobiesław Zasada Sp. z o.o. - oddział Kolej Gondolowa w Świeradowie Zdrój.
Areco,
Smak Baca,
Hotel ST.LUKAS,
Górskie Ochotnicze Pogotowie Ratunkowe - Karkonoska Grupa GOPR.
WARUNKI UCZESTNICTWA W ZAWODACH:
Wpisowe w kwocie 60 PLN,
Zapoznanie się z regulaminem imprezy i jego akceptacja,
Dobry stan zdrowia,
Uwaga: kwota 60 PLN wpisowego pokrywa:
2 posiłki w trakcie imprezy,
karnet w trakcie eliminacji i zawodów głównych.
PROGRAM IMPREZY:

27 marca - Sobota
09:00 – 11:00 - zapisy uczestników w biurze zawodów, arena piwna na terenie snowparku.
12:00 – 13:30 - eliminacje dla amatorów celem uzyskania kwalifikacji do udziału w zawodach głównych oraz rywalizacji z zaproszonymi zawodnikami. W zależności ilu będzie uczestników powstaną proporcjonalne grupy. Każda z grup będzie miała do dyspozycji 20 minut na zaprezentowanie swoich umiejętności.
13:30 – 14:00 - podliczenie punktów oraz wybranie 5 najlepszych zawodników z eliminacji, którym przysługuje prawo startu w zawodach głównych.
14.00 – 16.00 - zawody główne. 15 zawodników w 3 grupach po 5 osób będą rywalizować w 3 sesjach po 30 minut. Po każdej sesji wybieramy po dwie osoby do wielkiego finału, który będzie trwał 30 minut. Po sesji finałowej wybieramy 3 zawodników gdzie kolejno za 1 miejsce zwycięzca otrzymuje 2000 PLN w gotówce, 2 miejsce 1000 PLN, a za 3 miejsce 500 PLN. Za najlepszy trik zawodów licząc od eliminacji po sesje finałową jest nagroda 1000 PLN w gotówce.
18.00 – 20:00 – ceremonia nagrodzenia zwycięzców, impreza rozrywkowa dla uczestników, organizatorów oraz publiczności w restauracji Smak Baca.
21:00 – 24:00 – podsumowanie zawodów, impreza rozrywkowa dla uczestników i zaproszonych gości – zakończenie zawodów, w restauracji Smak Baca.

28 marca - Niedziela
11:00 - Pokazy najciekawszych tricków oraz photo-video sesja.