Woodcamp 2010 - 1st period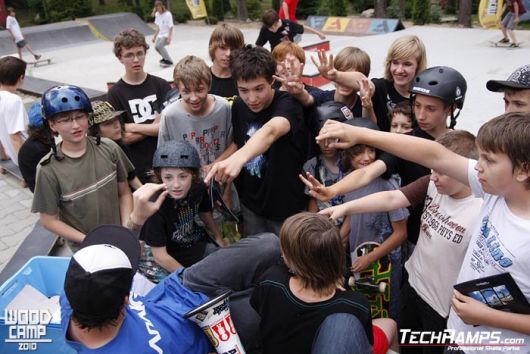 As every year in PRZYSUCHA is Skateboarding camp - Camp Wood, which enjoys a great interest from both the numerous campers and visiting skates teams in
this place.

Last Tuesday at the Wood Camp hosted Techramps team (one of the
sponsors of the camp) in the composition: Heniek, Johnny, Willy and hospitality Kosiu and Trodżan from the
Straight Krukt Posse. It appeared on the site around noon
adding a new skatepark obstacle, which is a medium-sized
bench, ideal for both beginners and advanced
skaters.

Testing a new obstacle and driving at high plaza lasted until dinner,
after which officially began the "day of Techramps.

First, on the skate plaza took place Team skater game, in which
campers a little older fans supported skateboards:) In
Final met Trodżan team and Kosiu team, which sinking deadly fight
in which there was no lack bones, finger flips, and standing on hands:)
Ultimately, the Trodżan team won.

After, on the mini plaza was held Quiz for the campers, which, at no
assessed aid of Tom Kotrych, led Heniek. Of course not
missing a few words about skateparks and favored by campers to distribute stickers:)

Lastly, on the new, covered mini ramp, which was well-received by
the campers, took place first in this year's Jam Session in which
certain "Boris" with Kato showed how the new generation ride on mini-
angles:)

Brief bowl session ended the day with Techramps. After dark
light rain began to fall, which, unfortunately, after a long time
turned into a rather large downpour. This way ended another day in camp of the
Camp Wood.